Kirsten Storms

Kirsten Storms portrays precocious Belle Black on Days of our Lives.
Born in Orlando, Florida in 1984, Kirsten lived the normal life of a child until she was five years old. While performing in a showcase at an area acting school for kids, Kirsten was discovered by a talent scout who convinced her parents to enroll their young daughter in an intensive children's acting program in the Catskills in New York. The opportunity was too good to pass up. However, Kirsten would need to make this trip on her own. The sacrifice paid off when the training culminated in an Off Broadway show where the five year old caught the eye of many agents and talent scouts.

Kirsten's first professional acting job was a commercial for Galoob Baby Doll, a gig she landed before she even returned to Florida. The rising star spent the next several years commuting back and forth between New York and Florida with her mother, Karen.

Kirsten's first television series was a recurring role in the series Second Noah, portraying the best friend of Hannah Beckett. Shortly after the series ended its run, the Storms family decided to head west and give Hollywood a try. Kirsten soon landed the role of Laura Cummings, Simon Camden's girlfriend, on the hit series, 7th Heaven. Sadly, Laura broke Simon's heart when Kirsten was chosen to star as spicy, free-spirited Zenon, in the Disney Channel's original movie Zenon, girl of the 21st Century. Kirsten portrayed the younger Melissa in the acclaimed made for television movie Love Letters, directed by legendary Stanley Donen.

When she isn't working, Kirsten enjoys the normal life of a teen. She loves reading (John Grisham is her favorite author) and hanging out with her friends at the local movie theater where her older brother, Austin, works. Kirsten's younger sister, Gretchen, is also an actress. Her family has three dogs, all rescued golden retrievers, named Shelby, Grayson and Hunter. Two cats, Priscilla and the Rum Tug Tugger, round out the Storms clan.

Kirsten celebrates her birthday on April 8th.

Enter content here
Nadia Bjorlin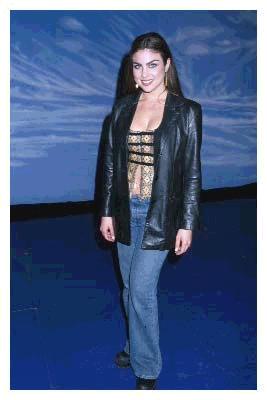 Nadia Bjorlin portrays Nancy's reclusive and musical prodigy daughter on Days of our Lives.
Nadia, the fifth child of six born to world renowned Swedish Maestro Ulf Bjorlin and his Persian wife, Fary, began her life in Newport, Rhode Island. The Bjorlins migrated back to Sweden, her father's native country, when Nadia was two months old. Being the family of a conductor and composer, the Bjorlins traveled and lived abroad for several years until their father took a job conducting the Florida Philharmonic and Palm Beach symphony. By this time, Nadia was completely seduced by her father's love of music. She started performing professionally at age eight, singing with two of her brothers at her father's concerts.

Nadia attended the prestigious Interlochen Center for the Arts and the Boston University Tanglewood Institute for several years, where she received recognition and awards for excellency in theatre, voice, music and dance. Nadia spent her junior high school years and her first two years of high school attending the Palm Beach County School of the Arts.

In 1996, Nadia competed in an international vocal competition in Verona, Italy, where she won the gold medal. When Nadia was a junior in high school, The Bjorlins moved to the Big Apple where she attended the prestigious Professional Children's School in NYC. In May of 1999, Nadia won first place in the Metro Lyric Opera Competition in New York City. After graduating high school in May of 1999, Nadia knew she wanted to shift her focus to acting.

Nadia has graced the covers of several international fashion publications and danced in the Ricky Martin music video for Shake Your Bon Bon. Nadia plays the piano, flute and just recently picked up the guitar, which she is self-teaching.

In her spare time, Nadia enjoys horseback riding, ice skating, swimming, and all kinds of music and dance.

Nadia's birthday is August 2nd.
Farah Fath
Farah Fath portrays Mimi Lockhart, an insecure teen on Days of our Lives.
Born in Lexington, Kentucky in 1984, Fath grew up with stars in her eyes. "I loved being in the spotlight ever since I can remember," recounts the energetic teen. Farah began her show business career as a child model at the tender age of five. When she was eight-years-old, Farah traveled to Los Angeles to participate in an International Model and Talent Convention. The young beauty began competing in pageants at eleven years of age and was crowned "Miss Kentucky Pre-Teen" in 1995. Farah was a National Speech Winner in several pageants.

Fath juggled modeling assignments, commercials, and pageant competition with academics, but still found time to be a cheerleader in junior high Farah's life changed forever in January of 1999 when she returned to Los Angeles to attend another International Model and Talent Convention; she walked away with a few awards and an agent. Reluctantly, Fath returned to Kentucky to finish her Freshman year of high school, knowing that she would return to Los Angeles with her mother that summer to make the audition rounds. In July of 1999, Farah's agent called with the news that she booked an audition with Days of our Lives. Farah landed the role of Mimi on her very first audition in Hollywood.

When she isn't working or spending endless hours in the Days of our Lives school room, Farah enjoys shopping, hanging out with her new LA friends, and attending church regularly. Farah's prized possession is her Cockapoo named Ziggy, who is half Cockerspaniel and half Toy Poodle. She unwinds listening to her favorite band, Hanson, and watching her favorite show, Friends starring her favorite actress, Lisa Kudrow.

Farah celebrates her birthday on May 1st.
Heather Lauren Olson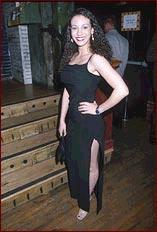 Heather Lauren Olson portrays Jan, a self centered, trouble making, obnoxious Salem High student on Days of our Lives. "If I really treated people that way, I would have no friends," states Heather. "But it's fun playing a character, I would never act like in real life."
Born in San Jose, California, Heather started modeling and doing commercials at the age of 2 1/2. A top fashion model saw Heather and suggested to her parents that she should pursue modeling. Heather landed an agent in San Francisco and soon booked her first professional modeling job, a cover for a Christmas catalog.

Heather, who became one of San Francisco's top child models, appeared on countless covers, catalogs, greeting cards, toy packages, commercials, adds in Vogue and Elle magazines, fashion shows and clothing hang tags. Jessica McClintock children's dresses still have a picture of a very young Heather on the hang tag.

After three years of doing countless commercials and print work, Heather caught the acting bug and soon landed an agent in Los Angeles. Periodic commutes to Hollywood for auditions paid off when Heather landed a role in Internal Affairs playing Richard Gere's stepdaughter, and music videos for Julian Lennon and Don Henley's "Heart of the Matter." When Heather was almost 8, her family decided to move to Southern California permanently.

Heather added more national commercials to her credits, including campaigns for Fisher Price, Mattel, Kraft, and McDonalds. Television appearances include Quantum Leap, Days of our Lives (playing a young Billie Reed), Star Trek: Next Generation, Sisters (playing a young Ashley Judd), Good Advice, Charlie Grace, and Suddenly Susan. She was a series regular on both Tom Rhodes and the HBO pilot Another Shot with Seth Green before landing the role of Jan on Days of our Lives.

Movies of the week include Lies of the Heart with Jennie Garth, Amelia Earhart with Diane Keaton, The Texas Cheerleader Story and the mini-series The Liz Taylor Story, in which she portrayed a young Elizabeth Taylor. Feature films include Internal Affairs and Leave it to Beaver.

In her spare time, Heather loves hanging out with friends, shopping, weight training, beading, going to movies, collecting Muffy Vander Bears and playing with her cat Mittens. She knows sign language and is a licensed Emergency Medical Technician. When her busy schedule permits, the young actress wants to get her paramedic license. Heather has brown hair and green eyes. She celebrates her birthday on November 12.