Isabella "Belle" Black

Originally, the residents of Salem believed that Belle was the daughter of Marlena and Roman. In truth, Belle was the product of a one-night-affair between Marlena and John Black. Belle's true parentage might never have been revealed if it weren't for her older sister Sami who discovered the truth and kept the secret for several months. She even went as far as to kidnap Belle and try to have her legally adopted! In the end, however, it was Stefano DiMera who revealed the truth after reading Sami's diary.
Currently, Belle is in her formidable teen years at Salem High School. She reluctantly began an ill-fated relationship with bad/rich boy, Philip Kiriakis but soon devoted all her attention to Shawn Brady. Recently, Belle has become close friends with the Chloe Wesley. All of her peers were shocked to see her spending time with Chloe, the resident "new girl outcast," but eventually everyone accepted their friendship. ~dool.com


Enter second column content here
Chloe Lane

Chloe spent most of her childhood at an orphanage outside of Salem, run by a woman named Mrs. Rush. She was given up for adoption at birth and waited 16 years to be reunited with her biological mother, Nancy Wesley. When Nancy was a teenager, she was coerced into sleeping with one of her father's acquaintances and became pregnant. Full of shame and unable to care for her child, Nancy gave the baby up for adoption and continued on with her life. When she was recently contacted by Mrs. Rush, Nancy secretly left town and planned to give her $25,000 to take care of her daughter. At the orphanage, however, Nancy heard Chloe's angelic voice and was overcome with emotion. When she came face to face with her own blood, Nancy knew they couldn't be separated again.
Fearful of Craig's reaction, Nancy lied to her husband and told him that Chloe was the daughter of a good friend who recently passed away. Chloe felt that she was creating unnecessary tension in Nancy's marriage and she decided to run away. Nancy tried to follow her daughter and was hit by a truck in the process. Later in the hospital, Chloe showed up by her mother's bedside much to Craig's dismay. She sang Nancy a song and brought her out of her coma. Later, Chloe moved in with Nancy and Craig and began to attend Salem High School.

In the beginning, Chloe had a hard time adjusting to her new life. At home, she was forced to live a lie with Craig and at school she was constantly ridiculed for not fitting in with the other kids. When Nancy's father unexpectedly showed up in Salem, the lie became harder to sustain. In time, Nancy's secrete was revealed and, although devastated by the news, Craig eventually came to accept Chloe as his daughter.

Most recently, Chloe has caught the attention of rich kid Philip Kiriakis. She has gained some acceptance at school and has become good friends with Belle Black. Meanwhile, Philip has been trying to work up the courage to admit his feelings to Chloe and the rest of his peers.
Mimi "Meems" Lockhart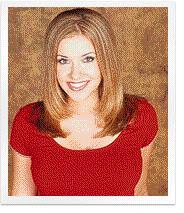 Mimi is a sophomore at Salem High, and Belle's best friend. In fact, these two are almost inseparable. A bright, energetic and boy crazy teen, Mimi often lets things slip out of her mouth she sometimes regrets. The results can sometimes be quite humorous. But beneath her buoyant fašade, lies a mask of insecurity she works hard to hide.

Mimi is often tongue-tied whenever Shawn is around. It isn't a secret, especially to Belle, that Mimi happens to think Shawn Brady is the cat's meow.

Now that Mimi has recently returned from France where she accompanied the Horton and Brady families in their search and rescue of Hope, it will be interesting to see if she catches Shawn's affections.
Jan Spears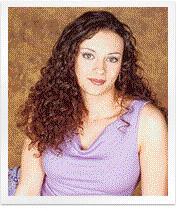 Jan Spears is a self-centered, trouble making and obnoxious Salem High School student on Days of our Lives. Along with her partner in crime, Jason, she encouraged Shawn and Philip to participate in the infamous video game tournament. Whoever lost the tournament would have to ask Chloe Lane (a.k.a. the Ghoul Girl) to the Last Blast Dance. The tournament ended and the lucky winner was Philip, who in all reality should thank the conniving Jan because he fell head over heals for the foxy Chloe Lane. Too bad for Philip and Chloe that Jan doesn't believe in happy endings.